ART DE VIVRE FOR PETS
AN EXCLUSIVE, FUNNY, REFINED SELECTION FOR CATS & DOGS.
BEAUTY BAR
NATURAL SHAMPOOS, ULTRA GENTLE FOR PUPPIES AND KITTENS, NOURISHING SHAMPOOS WITH EXTRA SHINE FOR ADULT PETS…
ORGANIC NATURAL SHAMPOOS WITH ESSENTIAL OILS, MAGIC UNTANGLING OILS, CUSHION BALM, DELICATE BRUSHES AND PERFUMES WITH EXTRA DELICATE ODOR OR ODOR FREE ANTIBACTERIAL PRODUCT TO FRESHEN UP THEIR BEDS…
A COMPLETE RANGE OF ORGANIC PRODUCT CHOSEN FOR THEIR UNIQUE ViRTUES TO TAKE CARE OF YOUR PET EVERYDAY.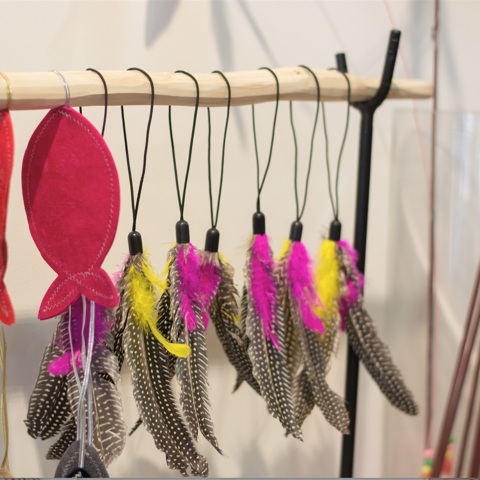 TOYS
SOFT, CRUNCHY, RESISTANT, COLOuRED, EXPRESSIVE STUFFED ANIMALS WITH TRACTION ROPES…
BOUNCY BALLS IN NATURAL RUBBER, FUNNY SQUEEKY CHICKENS…
EDUCATIONAL BRAIN TEASER GAMES TO OCCUPY THEM WHILST YOU ARE GONE…
balls IN JUTE FOR CATS, LITTLE MICE TO CHASE, FEATHERS, CARD BOARD TOYS TO STIMULATE CATS AND KITTENS !
FOOD
VEGAN TREATS FROM NORMANDY FOR DOGS, CHEF AND NUTRITIONIST ELABORATED TIN CANS, SPECIAL FOODS RECOMMENDED BY VETS FOR DIFFERENT PATHOLOGIES, QUALITY DEER HORNS TO CHEW FOR HEALTHY GUMS & TEETH, SAVORY MADE-IN-PORTUGAL CROQUETTES WITH LOW CARBS. A RANGE FOR STERILIZED DOGS OF NUTRITIOUS AND HEALTHY MEALS.
many choices to make them happy whilst ensuring a healty and nutritious diet !
EVERYDAY ACCESSORIES
Collars & leashes in leather with plant based coloring, pearl collars with beads made in kenya inspired by the Maasaï, matching bowties for pet & human…
thin collars for cats with sassy messages or with little bells…
travel bags & backpacks to transport them with chic & confort.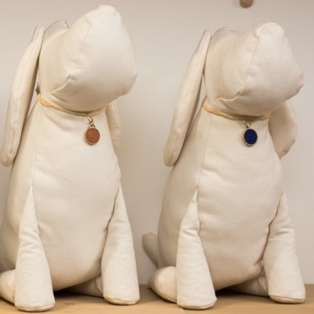 medals
DETAILS MATTER…
GIVE YOUR PET A CHIC STYLE WITH OUR "JEWEL MEDALS" MADE BY FRENCHIE Adeline Cacheux
ENGRAVED in enamel, we have two different sizes in four colors as well as one size in silver and brass.
exclusively sold at flair in the city and Alpha Dog's House.
FASHION & LIFESTYLE
Decorate your home whislt pleasing your pet & yourself:

stunning storage boxes to store croquettes or treats, cosy beds, tipis, or cocoons in baize for cats.
on the fashion side, we carry a range of sweaters & warm clothing for winter, chic raincoats for rainy seasons, as well as stylish scarfs, bowties & cute outfits for summer.